Ben 10 Galactic Racing
for
Xbox 360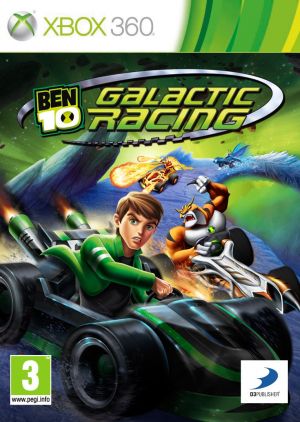 Key Information
Release Date
25 November 2011
Other Platforms

PlayStation 3
Where To Buy
Price History
Our Thoughts
Join Ben on the only game that is based on racing in the entire Ben 10 series. Race across five gigantic planets that consist of 25 fast-paced tracks. The added feature is that the route marked at the beginning of the race alters in the middle of it. You can choose to be the hero Ben or Kevin Levin or any other alien numbering 13 in all.
Each rides one of 30 special karts. Karts can also be unlocked following mini-game wins. The characters are all bestowed with unique abilities that aid in blazing the track. It actually delivers the final blow that tilts the game in your favor. Ben in this game too can change into the alien forms but the added advantage is that he can do it mid-way. Crown yourself a champion when you beat three of your friends. The ultimate race in the galaxy lets the players gain offensive or defensive pick-ups which also reward the players as they progress.
The game developers have stuck to the theme, art and sounds of the TV series increasing authenticity. Be(i)n,go! Right?
Reviews