Battlefield 1942: World War II Anthology
for
Windows PC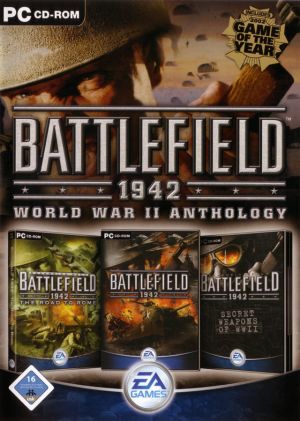 Key Information
Publisher
Electronic Arts
Release Date
3 September 2004
Where To Buy
Price History
Our Thoughts
This computer game offers unlimited combat World War style. This is a team game played from first person perspective. The special features of the anthology includes additional maps of the Coral Sea and Battle of Britain; as well as a map editor and best five maps that have been built by fans. Control one of 35 equipments like Jeeps, fighters, bombers, artillery, APCs, tanks, aircraft carriers, submarines.
With a weapon of your choice be it bazooka or battleship, enter into a barrage of fire, fighting the final battle. Counter your enemy in all three forms of engagement; land, sea and air. Since it is an anthology you find a collection of Battlefield 1942 games including the original game, The Road to Rome and Secret weapons of World War II Expansion Packs all rolled in one.
Experience the array of war machinery that the Germans and the allies use during the actual war as well as ones that were confined to the drawing boards but could have made lethality more deadly. In online mode, play against as many as 64 players. Must you wait?
Recommended
Reviews