Barbie: Groom and Glam Pups
for
Nintendo DS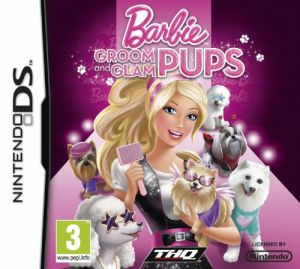 Key Information
Release Date
19 November 2010
Other Platforms
Wii
Where To Buy
Price History
Our Thoughts
This is a teach-and-train game. For all you Barbie lovers and pet pals here's a chance to exhibit your skills at canine care. From half a dozen dog breeds choose a Shi Tzu, Yorkshire Terrier or Poodle as the one to win. Groom the pooch, train it to perform basic dance sequences and dress it up like a model. Barbie will help you with instructions and tips throughout the game.
Let your dog learn a new trick when you adhere to on-screen prompts to a tee. Reward your dog with a biscuit shaped like a bone or teach him another trick. You should also take good care of your pet giving him a bath and even a shampoo. Combing and brushing would make him ramp-ready for sure. Take him to a photo session or let him do a jig or walk the catwalk. The stylus will help you accomplish most of the game routines, but be careful with the camera shots.
Go to the Barbie Glamour salon to buy dog collars, gingham shirts, hats, coolers and even leggings from the money you earn doing tasks well.
Recommended
Reviews