Bakugan: Battle Brawlers
for
Nintendo DS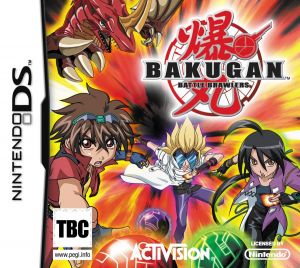 Key Information
Release Date
23 October 2009
Other Platforms
Where To Buy
Price History
Our Thoughts
This is based on a popular game show of the same name. The game opens in Vestroia a parallel dimension where the kid Dan and his group called Bakugan Battle Brawlers mustShape your own character and deck of nine cards that include three of each Bakugan, field cards and ability cards. Blow into your microphone when you wish to jump the bakugan and collect power upsand the touch screen to move around.
If you and your opponent are on the same card then you battle and play mini-games. The aim of the agme is to collect three gate cards. These are secured when you win opponents. Set your first metallic gate card. Now, role the Bakugan - a ball, that must land on the perfect card. Once the Bakugan stands on a crad it becomes Battle mode. When two Bakugans stand on the same card, Monster mode opens for a fight.
Enhance your bakugan with G-Power and if your bakugan has the highest G-Power at the end of the battle, then you win. The Tag-Team and Battle Royale action modes can also be played.
Reviews