Automobili Lamborghini
for
Nintendo 64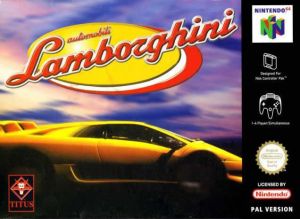 Key Information
Release Date
6 August 2009
Where To Buy
Price History
Our Thoughts
This racing video game is called Automobili Lamborghini. Unlock eight super cars including Porsche 959 and McLaren F1 by winning championships. It also has the Lamborghini Countach and Diablo lookalikes. The special feature of this game is that it lets you play against four players as well as AI opponents at the same time.
There are championship, single race, arcade and time trail modes. The screen displays not only the lap, time elapsed and rank information but also the speed at which you are travelling and a map of the course with a moving indicator of your position. Mimicking real life empty fuel tanks and worn out tyres are eligible for pit stops. Even here you can play mini games. You can do a maximum of 30 laps. The car control and handling are excellent especially in curves.
So take on the six circuits including mountains, ancient ruins and regular race tracks. It even offers automatic or manual transmission. Don't expect any high-speed crash or vehicular damage. This one is for pure racing thrills. The single player mode is the best and the sound track is pardonable.
Reviews