Atomic Bomberman [Sold Out]
for
Windows PC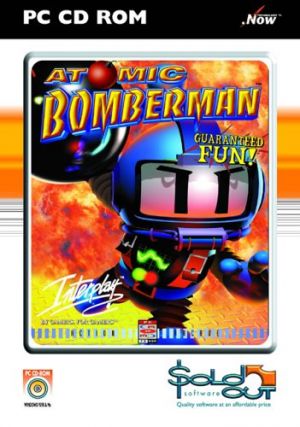 Key Information
Publisher
Sold Out Software
Release Date
2 March 2001
Where To Buy
Price History
Our Thoughts
Bomberman finally makes his PC debut, merging the classic gameplay veterans know all too well with a new lick of paint. If you're newer to the series, the basic gist of the gameplay is that you, as the eponymous Bomberman, must lay down bombs for the dual purpose of clearing away breakable walls and taking out enemies- be wary, though, as you are not immune to the firepower of your own bombs.
Thankfully, avoiding self immolation is relatively simple, as the explosion arcs only travel in four binary directions- up, down, left, and right- meaning it's simply a matter of hiding around a corner. Initially, explosion arcs only travel one space adjacent to your bombs placement, and you can only drop one bomb at a time, but power ups exist that can increase your total bomb output as well as the power of your bombs, with each power up increasing each factor by one increment per pickup.
The main factors separating this game from others in the series are the inclusion of a fairly simple level editor, pre-rendered 3D graphics used in place of traditional 2D spritework, and a sleek techno-inspired soundtrack. The game also makes liberal use of in-game dialogue, provided by well known voice actors Charlie Adler and Billy West.
Reviews