Atlantis: The Lost Continent
for
PlayStation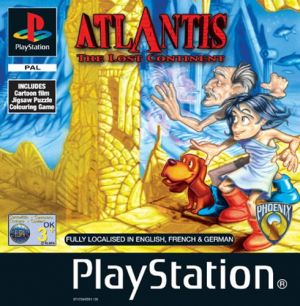 Key Information
Release Date
21 December 2004
Where To Buy
Price History
Our Thoughts
Wish to unravel the secret behind the famed lost city of Atlantis? This package contains cartoon film, jigsaw puzzle and a colouring book. It contains 2D graphics as well as cartoon graphics. The tale begins when Rodrigo, a fisherman's son comes across a bottle on the beach in which he finds a very special letter. It contains directions to uncover the city of Atlantis that is now lost.
Make the journey with the grandfather who puts him on this quest, Rodrigo and his canine companion, Uzo of adventure and discovery. Choose the paint brush, puzzle game or movie option. Painting scenes are step by step process where every colour can be chosen for a particular area and can even be changed. The jigsaw puzzle game involves moving squares around to form the correct picture that is illustrated in a split screen.
This PlayStation game is for the kids in your house. Known as Atlantis: The Lost Continent this game has been developed by Phoenix is available in English, French and German versions. Give your kids the feel of old world gaming.
Reviews