Assassin's Creed III: Liberation
for
PlayStation Vita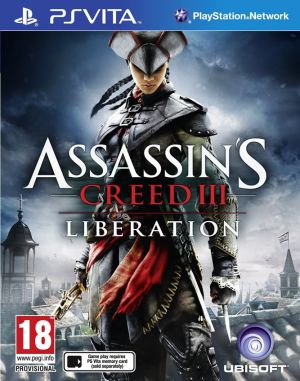 Key Information
Release Date
31 October 2012
Where To Buy
Price History
Our Thoughts
Aveline, a female of Franco-African lineage fights to save her land and people of Louisiana from the Spanish forces in the revolution year of 1765. She becomes an important character in the tumultuous beginnings of an independent nation, USA. She can eliminate enemies with a string of killings or dupe and trap them. She moves from the busy urban setting of New Orleans to the eerie swamps of the bayou to the ruins of Mayan civilisation.
She is adept at using the vicious machete,a tribal poison-dart blowpipe, or even a duelling pistol. She can use a novel tree navigation system to defeat her enemies in the musty swamps of the bayou. She will also search for Mayan treasures underwater and tackle untamed beasts on and off the land. The dual touch-pads, motion detection, and built-in camera of the Play Station Vita help in undertaking a series of slo-mo kills, picking pockets of unsuspecting victims and chasing your enemies.
The graphic details of the New World, excellent animation and a band new game engine add pep to this already popular action-adventure series.
Recommended
Reviews