Assassin's Creed II [Reprint]
for
Windows PC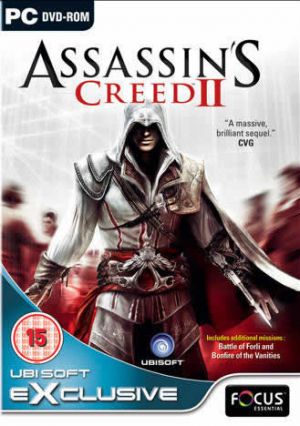 Key Information
Publisher
Focus Multimedia
Release Date
16 September 2011
Where To Buy
Price History
Our Thoughts
Enter the medieval world of intrigue and conspiracy as Ezio, the Assassin. His aim is to liberate the city of Rome from the clutches of the Borgia family. Use the city's landscape of myriad water canals to attack the enemies whether from a gondola, or from the bridges above the canals or even from unsuspecting guards from below.
A variety of stealth, combat and thieving skills can be put to use. You come across ace artist and inventor, Leonardo Da Vinci, military strategist Niccolo Machiavelli, and even the Pope himself, formerly known as Rodrigo Borgia. Get newly designed gadgets from Da Vinci and convince Machiavelli of your battling skills. The tasks ahead need both stealth and stamina as you must utilize the crowds in the city to hide yourself or swim through the canals or chase enemies through a maze of tombs.
Intersperse this with assassinations, attack acts or being a messenger and you have an entertaining game on hand. Throw a dash of side games like searching for treasure, play self-designer or enhancing your firepower and solving puzzles. This game surely adds energy to the series.
Reviews