Assassin's Creed II: Complete Edition
for
Xbox 360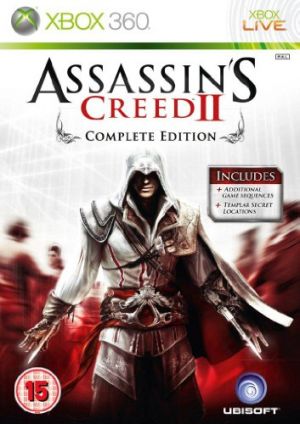 Key Information
Release Date
11 June 2010
Other Platforms

PlayStation 3
Where To Buy
Price History
Our Thoughts
This stealth action-adventure video game takes you on a tour of medieval Italy especially during the turbulent Renaissance Age. You are the protagonist Ezio, who is trained as an Assassin and seeks to dislodge the corrupt powers in position in Rome and moves through five different regions of 15th century Italy.
Not only does the game apply stealth tactics to seek out enemies from the canal network of Venice but also include characters from Italian history like the renowned artist Leonardo Da Vinci, strategist Niccolo Machiavelli, and Italian noble woman, Caterina Sforza. Leonardo makes special weapons like double blades and alarms. You can use the horse, gondola or swim to navigate the canals and attack enemies. The Complete Edition features downloadable games, namely, Battle of Forl__ and Bonfire of the Vanities and the three Templar Lairs.
The first follows the fate of the female character Caterina Sforza and the hero's quest for the Apple of Eden. The next is the Bonfire of the Vanities where Ezio locates the coveter of the Apple, the monk, Savonarola whom he saves from being burnt at stake but stabs him.
Reviews