Assassin's Creed II + Assassins Creed - Double Pack
for
Xbox 360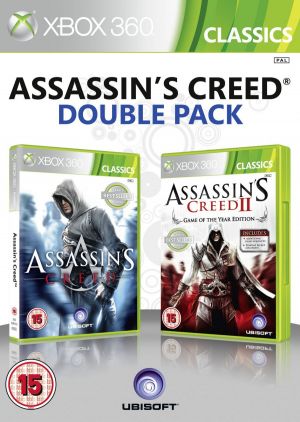 Key Information
Release Date
30 March 2012
Where To Buy
Price History
Our Thoughts
This special set lets you have the two games Assassin Creed and Assassin's Creed II in the same box. Altair is the protagonist in Assassin who is a thirteenth century middle easterner trying to end the Crusades. He has to visit three cities; Jerusalem, Damascus and Acre where he needs to scale walls and jump from tall buildings to achieve his objective.
You can use both open combat skills and concealment tactics to evade attention or face security forces to bring them down. The Assassin's Creed II sets the bar higher in that the AI as the general open-world format offers immense scope to take up the game at any point and choose your own mode of tackling issues. Free running and a range of human expressions abound in this highly interactive installment of the series. The field of action now shifts to Renaissance Italy where Ezio, an Italian nobleman turned assassin, seeks to avenge the killing of his kith and kin.
The range of missions can be accomplished by clever man-oeuvres and cold blooded killing, aided by expert craftsman in Leonardo Da Vinci, for some quaint weapons.
Reviews