Armored Core: For Answer
for
Xbox 360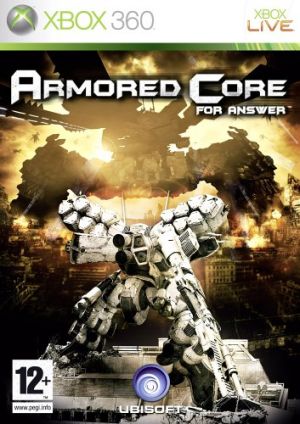 Key Information
Release Date
28 November 2008
Other Platforms

PlayStation 3
Where To Buy
Price History
Our Thoughts
Play as David among Goliaths, but with a unique twist; you will be inside self-designed mecha or robot that is operated from within. After war has ravaged the earth, the attention turns towards the sky. In a graphically enhanced setting, counter humungous armoured vehicles. The game is open-ended as you can determine its course when you opt to support one group or the other.
All missions are up for multiplayer mode. Use accessories and arms, a dab of paint and even armour that would help you make a mean machine that would defeat the meanest of villains. You can even pierce your way through enemy armoured cars and wreak havoc from the inside. If you wish for some rapid shooter game in arcade style then Armored Core For Answer is the answer! Finishing missions earns you points which can be employed in increasing turning power, augmenting power of boosters, and the pace at which weapons can lock on for accurate targeting.
You can also spread the Fire Control Systems (FCS) to a variety of AC systems. You can design your own emblem for your AC.
Recommended
Reviews