Armed And Dangerous
for
Xbox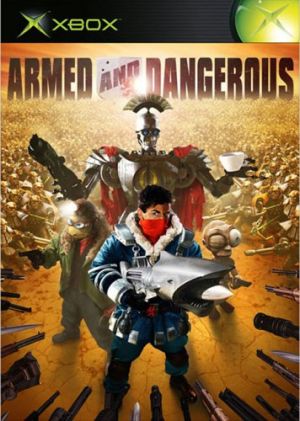 Key Information
Release Date
27 February 2004
Where To Buy
Price History
Our Thoughts
The game lives upto its title all the way. Loudest bangs for your bucks, literally. You are the leader of the criminal gang, Lionhearts (Jonesy, Q1-11, Lexus) and you are called Roman. The world of Milola consisting of three countries, Midden, Forge and Armortia, is ruled by a tyrant, King Forge. The gang attempts to take up the mother of all heists - stealing Milola's most precious artefact, the Book of Rule.
It portends the overthrow of the wicked king Forge.His soldiers are named Grunts and are half man-half animal. Not only must Lionhearts defeat these beasts but also face droids, goliaths, monks and twiglets each with its own unique power to wreck havoc. The adventure takes Ramon and his crew through five natural regions like icy areas, snowy peaks, beautiful mountains, dense forests, and slippery cliffs. In 21 missions, that require Ramon to rally his team to rain unending blanket of bullets on the enemy and pack a fiery punch in every salvo, you would truly become a trigger-happy outlaw.
Come, can you pick up your sniper rifle, submachine gun or rocket launcher, now?
Reviews