Amazing Adventures: The Forgotten Ruins
for
Nintendo DS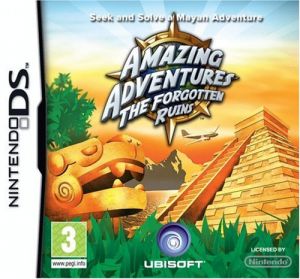 Key Information
Release Date
2 October 2009
Where To Buy
Price History
Our Thoughts
You are the archaeologist who has found a Mayan glyph that can lead you to the forgotten Mayan temple. In your seek-and-solve adventure, locate 1600 items through 70 puzzles spread across 18 missions. There are two modes of unlimited play waiting to be used after you unearth a fixed number of clues and hidden artefacts.
The stylus can be employed to win 5 types of mini games namely, Memory Match, Jigsaw Puzzle, Tile Swap, Mah-Jongg Match and Find the Difference (between two pictures). Whether it is a jigsaw puzzle or a pairing game, there is a twist in every game and watch the instructions before you play like an "old hand". The "find objects" games additionally have a jade mask and a glyph which need to be found.
You can also come back to this in other levels if you miss them in the first instance. In multiplayer mode, challenge a friend to post top points on leaderboards and also follow interesting clues from journal notes. Specially developed for Nintendo DS, the game offers you hints at every step of the way as well as option to pause play.
Recommended
Reviews