Alvin And The Chipmunks: The Squeakquel
for
Nintendo DS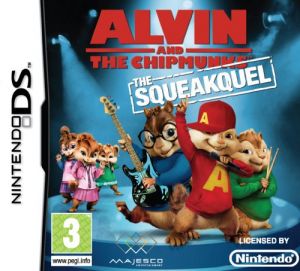 Key Information
Release Date
11 December 2009
Where To Buy
Price History
Our Thoughts
Embark on a world tour as The Chipmunks or The Chipettes (female counterparts) aiming to smash concert attendance records and augmenting their fan base. Sing as separate groups or duets at various venues across the world before delivering a cracker of a final inside Hollywood's Super Duper Dome facility.
Starting as rivalry at school, the two teams join hands after Chipettes Brittany, Jeanette and Eleanor are rescued by Alvin from Ian. You can perform as any one of the six characters as a single player or join another to form duets. Collect only musical notes from amongst other symbols in a side-scrolling format or sync movement and timing in tune with the songs that are played. In 25 locations, play chipmunk chartbusters including "We're the Chipmunks" as well as modern numbers like "Ain't No Party", "Girls Just Want to Have Fun" by Cindi Lauper and Los Del Rio's all-time hit "The Macarena".
The duets are "Shake Your Groove Thing", "We Are family", and a bonus song "I Gotta Feeling". So select from Alicia Keys, Beyonce Knowles, Ray Davies, or Mick Jones, and croon your way to glory!
Reviews