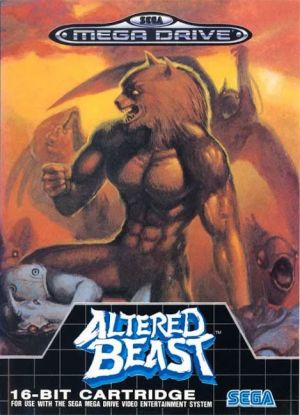 Key Information
Other Platforms

Master System
Where To Buy
Price History
Our Thoughts
In Ancient Greece, God Zeus brings back from the dead a centurion to save his daughter Athena from the Underworld God, Neff. The centurion becomes the Altered Beast that is half human and half animal, by taking in spirit balls to achieve enormous strength. The game is played in five levels : First, a graveyard to defeat zombies; next, Underworld where large leeches, rattlesnakes with Chinese Dragon-heads and dangerous chicken stingers inhabit; Cavern of Souls to quell gargantuan ants and turle/snails.
In Neff's Palace, he counters Hammer Demons too. In the final level at the City of Dis, he must battle against the Goat Men, Boar-Men and Unicorn-Men. In each level the main villain escapes in the end and transforms himself into the Aggar (ogre monster), Octeyes (plat with eyeball-shaped poison spores), Mouldy snail throwing green fireballs, crocodile-worm that breathes fire and rhinoceros-Man for high-speed attack.
Upon Neff's defeat in the level five, a Blue Bird emerges from the ground and regains the form of Athena. Altered Beast was the Sega Mega Drive's original pack-in title, but this stand-alone version features a slight graphical upgrade in the form of parallax scrolling.
Recommended
Reviews