Alien Breed Trilogy
for
Xbox 360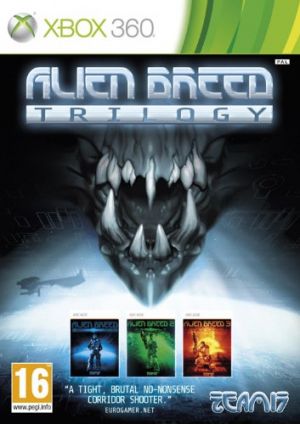 Key Information
Release Date
25 March 2011
Other Platforms

Windows PC
Where To Buy
Price History
Our Thoughts
This three-in-one title showcases sparks of brilliance albeit briefly. Three overhead shooters decipher monsters concealed in the darkness of mazes and corridors at different levels. Aliens run through alleys of spacecraft shadows with computer terminals throwing light on them. They use quick-action fire arms and surmount hurdles to move up. Like arcade games, controls are simple and smooth.
The first chapter titled Impact sees Spaceship Leopold's engineer Theodore J. Conrad in player's control. He must save himself and the ship from aliens who have entered his ship after their ghost ship collided with Leopold. The struggle for survival continues in the Assault chapter too using more lethal weapons and more aliens. The final chapter in Descent brings out the truth behind the Breed race.
However, the speed is a definite let-down. Experience the outdated isometric top-down shooter game in its modern form. Marrying breakthrough technology with past memory is tough. This game proves that retaining its historic energy levels while simultaneously fulfilling current gaming needs is almost next to impossible.
Reviews