Alice in Wonderland
for
Wii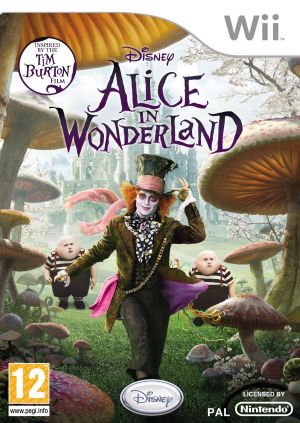 Key Information
Release Date
5 March 2010
Other Platforms

Nintendo DS
Where To Buy
Price History
Our Thoughts
Enter the fantasy world of Underland with illusions and exploration. The mysteries of this place are unlocked by Mad Hatter and other unique characters. All of them sport a different look. You are McTwisp the white rabbit, or Absolem the caterpillar or the ever-grinning Cheshire Cat. But you are not Alice. Use the stylus to indicate the desired direction of movement of the characters.
Assist Alice in facing the Red Queen and triumph over her Jabberwocky. Accomplish this task by solving brain teasing puzzles, avoiding traps and employing special abilities of a host of other characters like McTwisp's hold on time; Absolem's gravity control; game world turn by Mad Hatter and now-here-now-not tricks by Cheshire cat for parts of a level. The touch control system is excellent. The Oraculum map feature allows you to chart your own route around Underland.
Whether fighting the Queen's forces or saving Alice who is vulnerable because of her change in size, you can also be a part of this timeless classic tale. Prevent playing card knights from taking Alice through a portal with a few stylus swipes.
Recommended
Reviews