Age of Mythology
for
Windows PC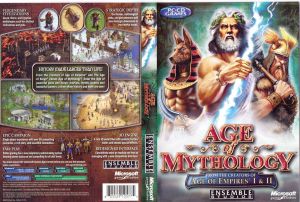 Key Information
Release Date
8 November 2002
Where To Buy
Price History
Our Thoughts
An enormous Cyclops has crossed through Greece, Egypt, and the Nordic lands, leaving a path of destruction and chaos in its wake, and Arkantos, the admiral of Atlantis' forces, is the one who must scour through the various lands, across various ages, to bring him down.
The various gods from across each civilization will grant their own special technologies, myths, powers and units to you as you build your own forces and towns, and their favour is as important to you as gold, wood, and food, and are gained by praying at temples, erecting brilliant monuments, or even fighting or hunting wild beasts, or proving your worth as a hero.
The single player package alone offers a sprawling 32 campaigns for players to sink their teeth into, but multiplayer offers a selection of alternative modes to add a little extra meat to the package; Supremacy, Conquest, Deathmatch, even old favourites like King Of The Hill and Sudden Death.
Recommended
Reviews