Aero the Acro-Bat 2
for
Mega Drive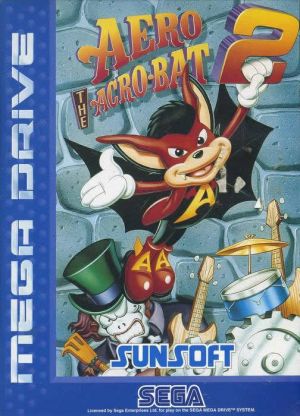 Key Information
Our Thoughts
Aero the Acrobat is out of the circus. A single player platforming game, it is once again Aero the aerialist's job to prevent the industrialist villain Edgar Ektor this time from implementing his dangerous "Plan B". In nearly 45 levels Aero must twirl, spin and tumble putting his acrobatic talents to the final test.
He must get on huge gears inside derelict towers or cross time and space barriers or even snowboard to defeat the boss. He can also now swing from chiming bells, jump on trampolines and even shoot himself off the cannon to attain more challenging platforms. You must also play bonus rounds and uncover hidden characters. Match your wits in the Ektor cup game which is the classic three cups game but played with more tempo.
The graphics add depth to the various levels as there are additional elements like intricate details, great looking ambience and variety in the music section too. The mini game varieties make the game more playable and offer a wholesome gameplay experience. The backdrops are made of many layers and the colour-scheme adds vibrancy to the presentation.
Reviews