Adventures In The Magic Kingdom
for
NES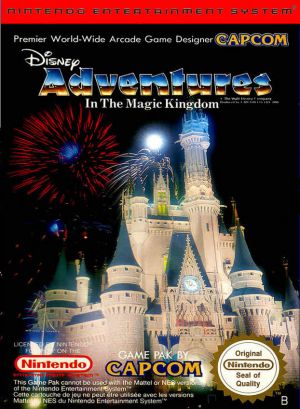 Key Information
Where To Buy
Price History
Our Thoughts
Enter the world of Disney and play a game based on the Disneyland itself. The six keys to the Enchanted Castle have been lost by Goofy and it is up to you to find and unlock the place to enable the parade to go on. The theme park itself lends to the game's theme. The five rides namely: Pirates of the Caribbean, The Haunted Mansion, Space Mountain, Big Thunder Mountain Railroad and Autopia.
In the first you must save six damsels in distress by collecting candles by evading enemies. In haunted Mansion using a set number of candles ward off ghosts and reach the exit. Fly a space ship using just two buttons in Space Mountain and navigate cars in Autopia by clearing all hurdles. Guide a fast moving train so that you escape rocks and dead ends and reach the next train station. Disney trivia related questions might stump you in another mini game.
As expected of a Disney based game, the animation is good and the graphics is particular levels like the Haunted Mansion where thunder light ups shadows are excellent.
Reviews