Actua Soccer [Platinum]
for
PlayStation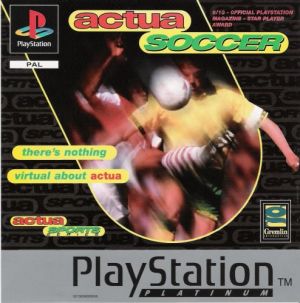 Key Information
Publisher
Gremlin Interactive
Where To Buy
Price History
Our Thoughts
Here is a sports video game in full three dimensional graphics that showcases the most popular sport on earth. The third and ultimate game in the Actua Soccer series combines both club and national teams. A favourite for its ease of control, this game certainly upholds that series reputation. It is simply very easy to pass, shoot and net a goal.
The game boasts of quicker and cleaner animation. The sound has also been enhanced and commentary is now done by Barry Davies and Martin O'Neill. The animation when goals are attempted and the quick reflexes of the goalies are seen to be believed. With more than 10000 players, 25 league and 450 national and international teams and upgraded multiplayer mode, this football game is surely in the upper bracket. The feel and look of passes between players is exquisite.
Enjoy a football game to the fullest by having ample time and room to make great passes and attempt excellent shots. Browsing through the different options in gameplay has never been so simple and easy. Bring on your creative juices by putting up your own team and designing your own cup. Customise to the hilt. Play on.
Reviews