Action Man: Destruction X
for
PlayStation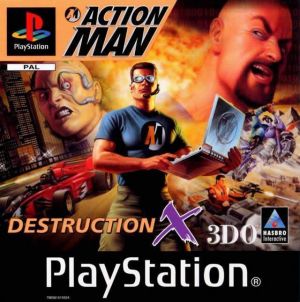 Key Information
Release Date
10 November 2000
Where To Buy
Price History
Our Thoughts
Now Action Man must put a stop to Dr. X's diabolic idea of stealing scientific secrets to rule the world. Travel through three different cities in a variety of vehicles like Silver Speeder and Polar Bike to complete 26 race, chase and rescue missions. Be it hot deserts or the freezing arctic to counter robot that are warriors, green plants that have mutated and dangerous insects Action Man must face it all.
You would primarily be using a range of weapons to aim at different targets as also drive in top speed. This is surely suited for young gamers who are just trying to get into action. There are also puzzles to solve though the joy of solving is slightly dampened with the supply of a few hints about how to go about. The visual presentation uses both third person and top down perspectives which are dependent on the mission you are playing.
There are two different levels into Action and Vehicle levels. Action Man moves inside the opponents' underworld to accomplish missions in the Action levels. Drive high speed cars, pilot aeroplanes and clipper boats in the Vehicle levels.
Reviews