101-in-1 Party Megamix
for
Wii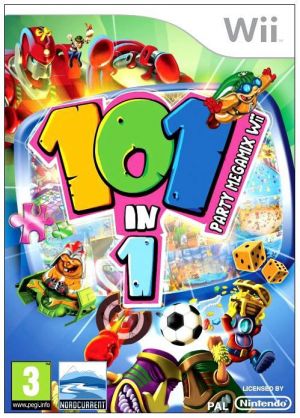 Key Information
Release Date
30 October 2009
Where To Buy
Price History
Our Thoughts
What if you can play 100-odd games with a host of your friends? 101-in-1 Party Megamix will fulfil this dream completely! This action-packed multigame package has been designed like TV shows. Open a TV screen to become a Transformer gobbling metal or a sphinx rumbling or rollers. Be it the railway track where you avoid on coming trains or high-speed race tracks for lightning motion cars this is the game to turn to.
Help a gourmet gobble food or save yourself from a trampling dinosaur. Aim and shoot on aliens or alligators. Become a composer who chooses the right notes or stay airborne to escape predators. If you are a sports enthusiast try the Basketball game or the trampoline. Add the excitement of facing your friends.
There are medals and bonus prizes to be won. A quartet can play at a time and you will be able to save four profiles at a time. So, what are you waiting for? Join the party!
Reviews