101-in-1 Explosive Megamix
for
Nintendo DS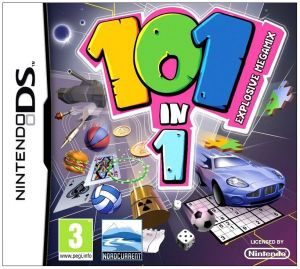 Key Information
Release Date
28 November 2008
Where To Buy
Price History
Our Thoughts
Imagine the benefits of playing more than 100 games using the easy touch controls offered by the Nintendo DS; well, imagine no more because the entire gamut of game types including puzzles, sports, arcade and much more is available all in a single cartridge. The mode is truly addictive as the more you progress the more the game that can be played.
Use gold coins got upon top scores to face new and more exciting games. Play a head-to-head challenge with your friend too. You can aim and shoot or drive a race car without colliding; you can be Inuit fishing in the snow or an errant housewife who throws everything out of the window. Travel down history to the time of the Incas or archers and pitched battles. Take to the skies to negotiate battleships.
Relax with some other games like Sudoku, cards or jigsaw. Whether you are a foodie, space enthusiast, footballer or marine lover there is fodder for each of you. The trellis or tag, the torpedo or truck move through land, water, air and even outer space for some fast paced interesting action.
Reviews