007: The World Is Not Enough
for
Nintendo 64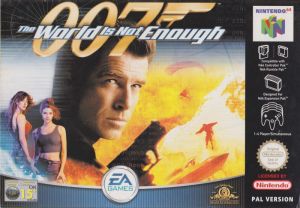 Key Information
Publisher
Electronic Arts
Genre
First Person Shooter
Release Date
8 December 2000
Other Platforms
Where To Buy
Price History
Our Thoughts
Developed by Electronic Arts (EA), The World is Not Enough is a visually appealing first-person shooting game. Each level sets up missions for you, James Bond, as decided by your boss M. Completion of these takes you to the next level, gradually advancing in difficulty.
Firstly, you must prevent Istanbul being nuked by people who wish to control the world's oil trade. Choose to be an Agent, Secret Agent or 00 Agent for varying levels of difficulty. A whopping 14 single player levels are available, allowing you make full use of 40-odd gadgets and weapons, courtesy of Q and his lab technicians. Not only do you get to shoot bad guys but also ski, dive, gamble and use stealth just as in the movie.
Exclusive genuine film footage adds to the atmosphere, though the hero is a Pierce Brosnan look-alike (unlike the famed Goldeneye video game by Rare). This N64 version has a multi-player arena that unlocks upon timely completion of single player levels. However, young players are cautioned against the presence of this much more violent part of the game. This game is excellent for those Bond fans who just can't get enough.
Reviews